Whether you are a Nature Lover, an Adventure Seeker, if you're into History and Heritage or Arts and Culture, if you're looking for family fun or would like a Taste of the South West – I'm going to make some suggestions for things you might like to do when having a break for a few days in the beautiful seaside town of Ayr on your journey around the South West Coastal 300……enjoy……
All about Ayr……
With a street plan dating back to the 1200s and many fine buildings from the centuries since, Ayr is an attractive town with a real sense of its history. When you add a river that was first bridged 800 years ago, a harbour that for centuries was the most important on the west coast of Scotland, a racecourse dating back (on an earlier site) to 1770 and all the trappings of a seaside resort, you end up with a town that has something for everyone.
Nowadays Ayr is a popular seaside resort, complete with charming sea front, leafy suburbs and range of places to stay.  It has a fantastic esplanade with a long sandy beach which is perfect for walking and vistas directly to the beautiful Island of Arran. 
Scotland's national bard, Robert (Rabbie) Burns, was born in Alloway, on the outskirts of the town – check out  the many visitor attractions in town all about him.  Also – Ayr Racecourse, dating back to the 18th century but now relocated elsewhere in the town, runs many Flat and National Hunt meetings throughout the year and is particularly famous as the venue of the Scottish Grand National, the Ayrshire Handicap and the Ayr Gold Cup.
There is also good shopping and some lovely Bars and Restaurants in Ayr and some great leisure facilities including three public golf courses: Belleisle, Seafield and Dalmilling and several private courses nearby where visitors are made more than welcome.
Below are suggestions for things you might like to see and do while staying for 3 or 4 days in Ayr.
Find out about Rabbie Burns..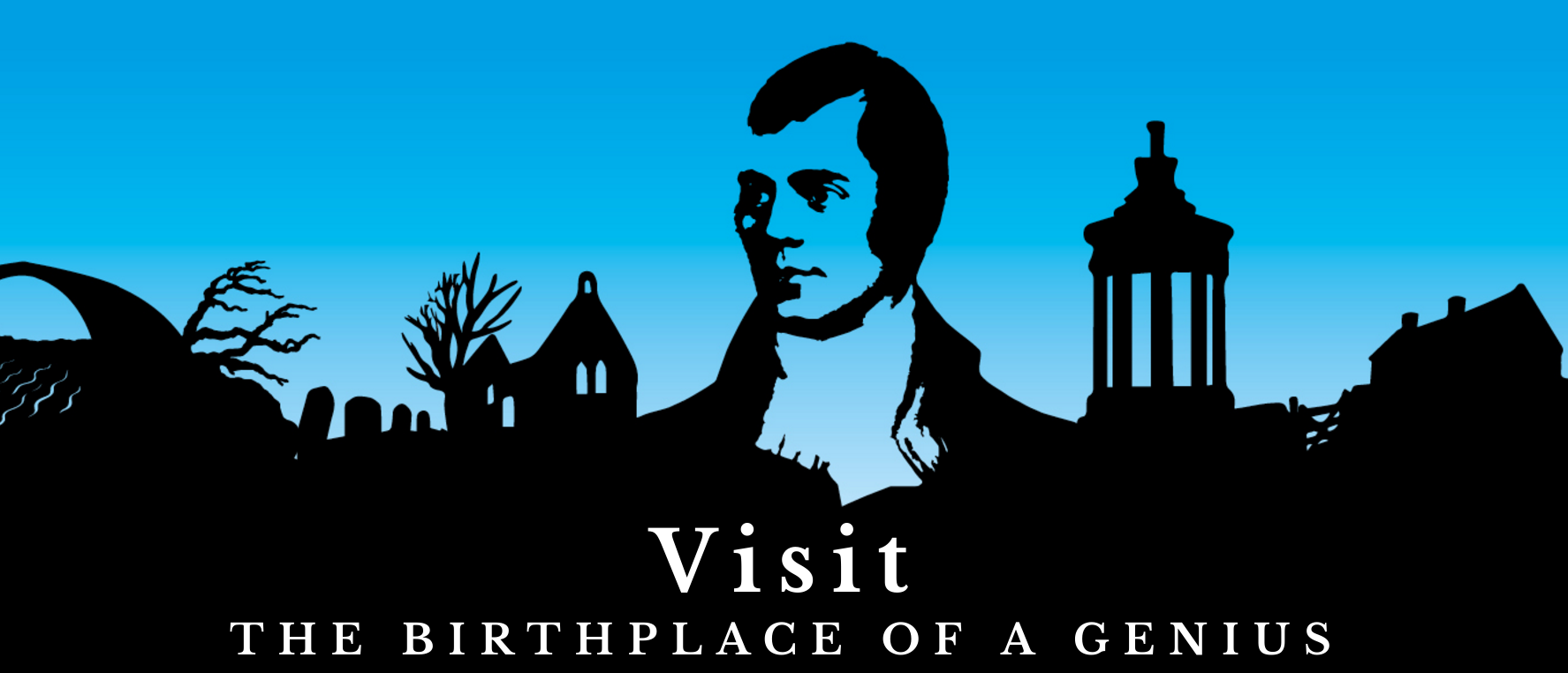 Explore all about Robert (or Rabbie) Burns, the Ayrshire ploughman who become one of the world's best known poets.
The Robert Burns Birthplace Museum is made up of six sites within the village of Alloway (within the town of Ayr), all within easy reach of each other and offer a truly unique insight into Scotland's favourite son.
Visit Dumfries House
Dumfries House is an 18th Century Robert Adam designed stately home, which houses an unrivalled, fully documented collection of rococo furniture by Thomas Chippendale and three 18th Century Scottish cabinetmakers. It is located within a 2000 acre estate, around 2 miles west of Cumnock, East Ayrshire and after being threatened with sale and dispersal in 2007 Dumfries House was saved for the nation by HRH, Prince Charles, The Duke of Rothesay (as The Prince is known in Scotland) who led a consortium of organisations and individuals in a passionate campaign for its rescue.  It has beautiful gardens, a visitor centre, restaurant, cafe and shop – there really is something for everyone………
For Family Fun – younger visitors will enjoy……
Heads of Ayr Farm Park and undercover Play N'Wild adventure barn is only 4 miles South of Ayr on the A719 coastal road and whatever the weather there is always something to do there – with activities for all the family!
Ayr Beach and Playpark will keep those young (and those young at heart) entertained for hours. In addition to the stunning safe sandy beach which goes on for miles there's a great playpark and for younger children Pirate Pete's is just next door. Pirate Pete's is Scotland's biggest indoor adventure play as well as Scotland's first mini championship putting course. There is also a traditional seafront tearoom and kids outdoor funpark. 
For all the family – take a day trip to the beautiful Island of Arran – which has long been called 'Scotland in miniature'
The Isle of Arran
For an island only 20 miles long and 10 miles wide it packs in a lot!  It's a great day away – catching the early ferry from Ardrossan (only 20 miles north of Ayr) to Brodick – where you can either jump on a seasonal bus tour around the island or take your car or bike with you.
Amongst the many things to see and do are:
Taste your way around the Island  – for a relatively small island, Arran packs in lots of flavours and you can sample them as you travel around.  It offers creamy cheeses, refreshing beers, traditional oatcakes, tempting chocolates and delicious ice cream. Book a tour at the Arran Distillery to discover the secrets behind the distilling process before sampling a dram of malt whisky or the creamy liqueur Arran Gold.
Explore the Arran Heritage Museum in Brodick or take part in the many outdoor leisure pursuits on offer, from climbing Goatfell (at 874 metres it is the highest point on the island), to playing golf at one of the 7 courses Arran has to offer, to cycling (bikes are available for hire) and pony trekking – there's plenty for everyone to see and do!
Again for all the family – take a day trip to Glasgow 
Glasgow
Glasgow is a vibrant port city on the River Clyde in Scotland's western Lowlands. It's famed for its Victorian and art nouveau architecture, a rich legacy of the city's 18th–20th-century prosperity due to trade and shipbuilding. Today it's a national cultural hub, home to institutions including the Scottish Opera, Scottish Ballet and National Theatre of Scotland, as well as acclaimed museums, a thriving music scene and brilliant shopping.  It's only a 50 minute train or bus ride from Ayr – the people are renowned for being very friendly and Glasgow is well worth a visit!
If you're into having an active break take a look at some of the suggestions below:
Hiking – if you enjoy hiking while taking in nature at its best – parts of the Ayrshire Coastal Path run both North and South from Ayr (I'll be featuring the full path in a future blog) – and the following sections can easily be walked getting public transport back and forward to Ayr..  
Girvan to Maidens – a walk of 8.1 miles on pavements, minor roads, farm tracks , rough gravel and sandy shore with three short Tidal Stretches.  For those of you who enjoy nature there is the opportunity to see Seabirds, seals and basking sharks, off Dipple Shore and Turnberry Point. 
Maidens to Dunure – a walk of 6.2 miles via sandy beaches, park paths, rocky outcrops, field-edge paths with one tidal stretch.  On this walk you can take in specimen trees in Culzean Country Park,  woodland and coastal birdlife,  seals and basking sharks in Croy Bay. In terms of geology there are raised beaches, agates and yellow sandstone cliffs with smugglers' caves.
Dunure to Ayr – a walk of 8.9 miles taking in rocky escarpment/fields, livestock, rocky outcrops and shore, cliff top field path, railway track, sandy beach and eventually promenade. Nature to be seen on this part of the walk includes roe deer. raptors. finches and warblers. 
Ayr to Troon – an easy walk of 7.8 miles on promenade, pavements, paths and sandy beaches sometimes taking in the seals basking just off the shore in Troon and in Troon Harbour.
There are also beautiful walks in the Carrick Hills (just South of the town) providing an amazing vista looking all the way down the coast and taking in Ailsa Craig, Arran, the Mull of Kintyre and sometimes even Ireland……
If Horse Riding is your thing then get in touch in advance of your trip with Blackstone Clydesdales – and book a 2 hour ride on Ayr Beach on these beautiful gentle giants.  If you're maybe not as confident as to ride on the beach or just want to try riding then get in touch with them and they can arrange that for you.
If Golf Is your passion – in addition to 7 Council Courses in Ayrshire – you should check out some lesser known gems including  Prestwick St Nicholas Golf Club – where there is a sea view from every hole.  If you'd like to find out more about golf in Ayrshire – take a look at a previous blog my husband Andy Marshall – who's a PGA Professional put together for me on his top 10 golf courses in Ayrshire.
Walking/Jogging/Running – If you're a Parkrun participant then there are 3 great events in the area where you can be a Parkrun tourist – Rozelle Park in Ayr, Troon Promenade, Troon and Eglinton Parkrun in Irvine – all events start at 9.30am on a Saturday morning.
If you're a connoisseur of good food – you can find plenty of opportunities to sate your tastebuds at many lovely restaurants in the area.  Below are some that I have sampled myself – but this isn't an exhaustive list…..
The Waterfront – Situated on South Harbour Street, Ayr, The Waterfront has spectacular views across the River Ayr towards Arran and includes a beautiful outdoor terrace . The interior provides a luxurious, comfortable setting for either a quick bite to eat, dinner or a perfectly chilled glass of Champagne.  It prides itself on its endeavours to use as many local Ayrshire suppliers as possible sourcing and delivering daily to ensure the food is made from the freshest Scottish ingredients. 
Another restaurant not to be missed is Scotts at Troon Yacht Haven.  With a stylish interior, seasonally changing menus and tempting wine list – it serves everything from 
bar nibbles and oysters to delicious sharing platters, freshly-landed lobster to prime Scotch steaks, Scotts refreshingly diverse drinks menu is equally impressive, with a cocktail list that has been inspired by some of the world's most iconic bars, a carefully curated wine list, and a selection of artisan gins and craft beers from closer to home.  The views out towards the Isle of Arran and Ailsa Craig across the marina make it a lovely place to chill.
If you enjoy Thai food – there is a lovely Thai restaurant right in Ayr renowned for amazing food  called @home.  This restaurant does lunch and dinner and prepares the freshest, tastiest thai food you could ask for so is constantly sought after – therefore be sure to make a reservation in advance.
If you fancy something lighter – there is an Artisan Bakers – Bhaile Craft Bakery right in Ayr baking the most yummy sourdough bread and other goodies – there's a cafe to sit in or you can pick up and take-away whatever you fancy.
If you fancy just stopping somewhere for a nice coffee when you're out and about there are numerous lovely cafe's on Prestwick's bustling High Street – (the next town up the coast from Ayr) including Bramleys and Costley's.
Hopefully some of these things have whetted your appetite to come and explore the South West Coastal 300 – spending some time in Ayr in particular.  In the next blog I'll have suggestions for things to do while travelling between Ayr and Dumfries………………and please if you have any feedback I'd love to hear it……..